MFT announces the appointment of Christian Pape as new Chief Financial Officer. Pape will play a central role in realizing MFT's IPO ambitions in just over two years.
Despite his relative youth at 44, Pape has held pivotal roles at two of Denmark's largest companies. He has experienced both the buoyancy of a globalized sector at DSV and, most recently, the troubled waters of a digitally-challenged industry at Aller Media.
"Christian has proven to be extremely agile in optimizing companies' finances by adroitly taking their unique circumstances and trajectories into account. He combines a strong international profile with substantial M&A experience, both of which will be crucial with regards to our ambition for an IPO in just over two years. He is also very positive and extremely committed, traits which align well with our set of values and what we stand for"

Torben Nordal Clausen, CEO
MFT is heading for an international growth adventure, where the new CFO's global and logistic experience will play a central role.
As MFT's international growth accelerates, Christian Pape's previous experience with the global transport and logistics company DSV will be invaluable to MFT.
"Christian will of course play a central role in helping us realize our IPO ambitions, and a crucial aspect of that will be his ability to draw upon his experience of DSV's global growth adventure. We are confident that Christian is the right person to fine-tune our finance team for the demands of public listing, leverage our unique partnership model, and to sharpen our focus on future investors."

Torben Nordal Clausen, CEO
Christian Pape will assume as CFO in MFT Energy on 1 May 2021.
The allure of MFT's meteoric growth journey proved irresistible for the 44 year-old Pape in deciding to depart Aller Media and the publishing industry for MFT and energy trading.
"MFT has experienced impressive growth since its establishment, and an already strong financial and accounting foundation is geared for further optimization. I helped DSV transform from a company rooted in Scandinavia into a leading global player, and that is exactly the experience I want to bring to MFT. I look forward to helping MFT navigate its steep growth curve."

Christian Pape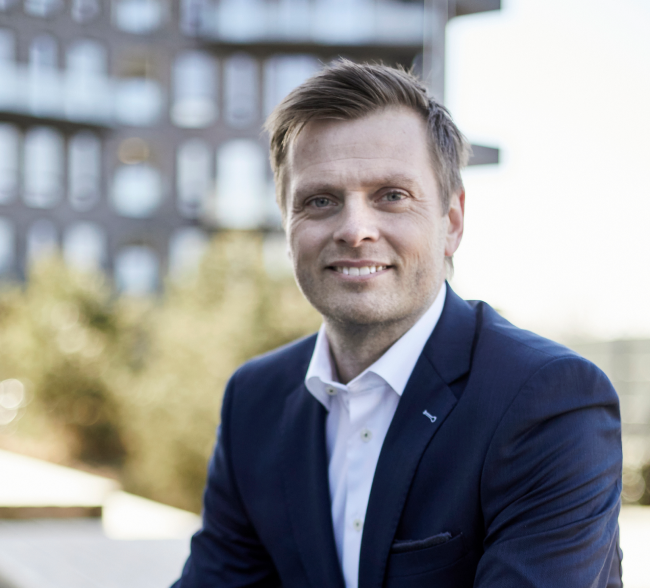 Christian Pape will assume his new role as CFO in MFT on 1 May 2021. According to Christian Pape, participating in an IPO journey played an important part in deciding to take up the CFO role at MFT.
There are not many CFOs who get to experience co-responsibility for an IPO. Being the CFO of a company driven by such a clear ambition and short time horizon is one of the most exciting challenges imaginable. The CFO job at MFT is a top-shelf career move for me.

Christian Pape
For further information contact COO, Bo Palmgren on +45 2616 9232 or email: bp@mft-energy.com and visit our LinkedIn page and News page where you can sign up for our newsletter and get notified on new updates from MFT Energy.