Our unique partnership model has been essential in attracting and retaining highly-skilled employees and giving them the opportunity to become a partner. Our ownership structure is a win-win approach for scaling MFT Energy even further.
A Strong Partnership
MFT Energy's partnership model is a core strength of our organizational setup. Today, we have eight strong power and gas teams with highly-skilled and experienced traders, within their respective fields of expertise and geographical focus areas.
We have built a platform with a number of very strong support teams, which deliver all the core services to our trading teams by providing leadership, capital, market access, risk management, software & technology, finance, support, and legal assistance. This allows our trading teams to stay focused on what they do best: executing on their strategies. Together, we will execute on the business plan and achieve our common goals as a firm. Through our partnership setup and business model, we can empower traders to be the best in their markets.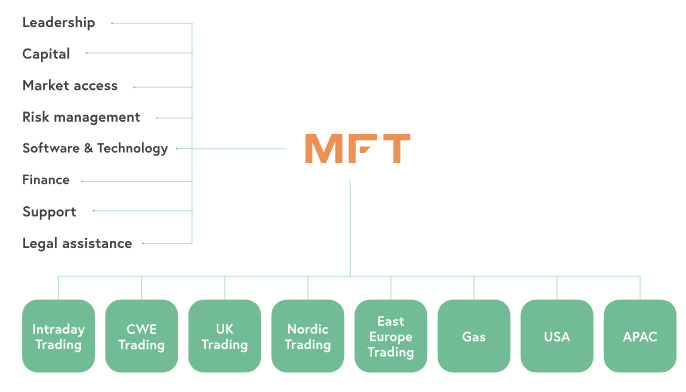 Shared Ownership
MFT Energy is a global trading hub offering a business ownership model for employees. For ambitious entrepreneurs within power and gas trading, this represents an attractive opportunity for personal development and for achieving personal ambitions as a business owner. We see this as a fair organizational structure. At the same time entrepreneurs can leverage their ambitions by getting access to MFT Energy's platform as a service. The success of our partnership model is reflected in the financial results we achieve, the influx of highly-skilled employees and our strong corporate culture. We get positive feedback for our entrepreneurial spirit permeating the entire organization.
At the beginning of 2022, 11 employees were promoted, and the total number of partners increased to 46, corresponding to a partner degree of 52%. We believe in shared ownership and the motivation it brings as a benefit to our organization.
MFT Energy's annual report 2021 can be found here.
Also, check out what our colleague Orhan Cankaya has to say about making partner. The MFT partner model enables talented people to become engaged business owners and creates a dynamic, enjoyable, and profitable work environment for everybody.